Post Your Support
Every $20 post you give today, helps build rural New Zealand.
GST inclusive values are shown above but will be removed when you reach the shopping cart.
You don't have to be a shareholder of Farmlands or member of Federated Farmers to receive funding to help you with rebuilding your fences. This fund is open to all in rural NZ that have been affected by Cyclone Gabrielle regardless of farming system.
Use the apply now button for grant applications.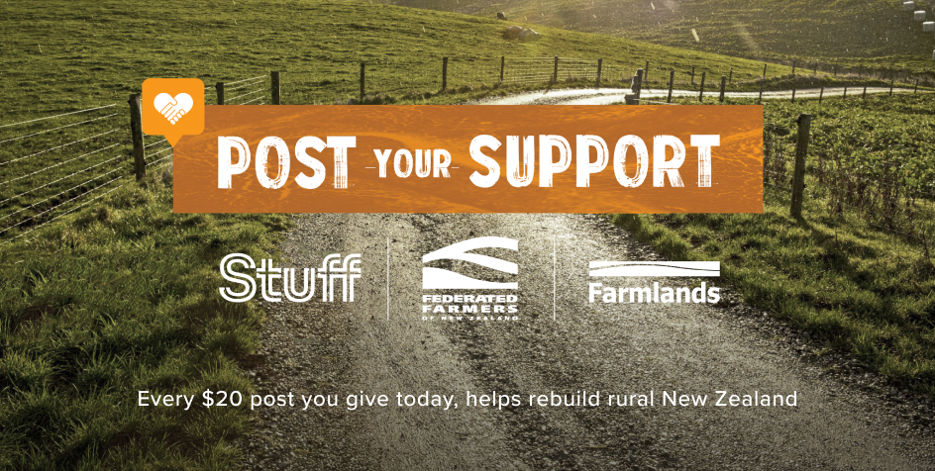 Our rural communities are starting on a massive clean-up job across every aspect of their land, and getting essential fencing and growing structures rebuilt or repaired is one of the first priorities for farmers and growers.

In partnership with Federated Farmers and Stuff, Farmlands has launched 'Post Your Support' as a way to directly help those whose livelihoods have been impacted by the cyclone.

Post Your Support is a great way everyone can help cyclone-impacted farmers and growers get back on their feet. The quicker fencing is sorted, the quicker essential agriculture and horticulture businesses can resume their normal mahi.

Farmlands has kicked the fund off with $225,000 from its Cyclone Gabrielle Response Fund and Federated Farmers has contributed $150,000. Stuff is putting in $80,000 worth of media coverage. Post Your Support is also already gaining support from across the sector with the Ministry for Primary Industries (MPI) contributing $100,000 and Silver Fern Farms another $100,000. This means that the fund is launching with around $650,000 of funds already available – which will support up to 25 kilometres of fence repairs or replacement.

But many times this sum is going to be required, given the tens of thousands of kilometres of new fencing that'll be needed.

All the partners are bringing their own strengths to the effort.

Farmlands will be using its buying power and supplier relationships to make every $20 go as far as it possibly can. Federated Farmers is mobilising the Farmy Army this weekend to start the mahi, and they're working to coordinate professional fencing contractors to continue over the longer term. Stuff will be invaluable in getting the message out there, sharing the stories, the wins and the generosity of the individuals and businesses that contribute.

Cyclone-impacted farmers and growers can apply to the fund now.

Farmers and growers in need can apply to receive a $5,000 credit to offset against the purchase of fencing material. We can already assist around 130 farmers and growers with the funds raised so far.

The funds will be available as a $5,000 grant to be used for purchases of fencing and growing structure materials, which will be made available at reduced prices via Farmlands. Click here to apply for a grant now..

Your contribution will help to get the fences of Aotearoa back up again.

Please contribute by purchasing the above denominations or by visiting a Farmlands store to buy a fence post for $20. Buy one post or 1,000 by going instore or online – it will all help.
Farmlands holds the funds as a stakeholder until it is decided how they are to be applied